To get an appointment to submit a Non-Lucrative Visa application at the Spanish Consulate in London, you must first send a request by email.
Attached to your request you must provide a sworn translation to Spanish of your Police Certificate (ACRO report).
Need help getting sworn translations? Click here
Requesting an appointment to apply for Non-Lucrative Visa at the Spanish Consulate in London
Send an email to the address cog.londres.viscp@maec.es
In the SUBJECT specify the type of residence visa you wish to apply for, i.e. NON-LUCRATIVE VISA
The TEXT of the message must state:
FIRST / GIVEN NAME and SURNAME
PASSPORT NUMBER
E-MAIL ADDRESS
PLACE OF RESIDENCE IN UK
TYPE OF RESIDENCE VISA YOU WISH TO APPLY FOR
Attach the sworn translation of your Police Certificate (ACRO report). If you do not attach this to your e-mail, your appointment request will not be processed. The certificate must be dated within 3 months.
NOTE: The Spanish Consulate in London's email system can only accept file attachments up to 2MB in size, so check the size of your attachment before you send it. If it is too large you will need to reduce the file size. Your Police Certificate file should be in PDF format, in which case you could use a free online app to compress it. For example: https://www.ilovepdf.com/compress_pdf
An appointment is for one person only, therefore spouse or other family members accompanying the applicant who are also applying for a visa, need to each have their own appointment.
Ideally separate email requests should be sent for each applicant from separate email addresses.
Applicants are strongly advised not to send more than one e-mail requesting an appointment, any duplication will lead to a delay in the processing of their visa appointment request.
Once your request has been reviewed and Police Certificate verified by the Consulate staff, you will receive a username and password by email and a booking link to to the appointment booking system.
Save this email as you will need the link, username and password to return to your booking if you need to change it.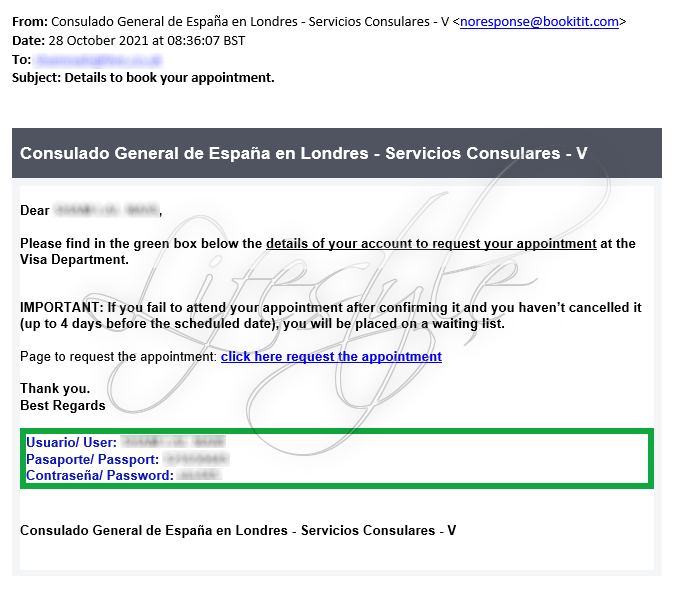 Choosing a date for your appointment to apply for Non-Lucrative Visa at the Spanish Consulate in London
When you click on the 'request the appointment' booking link, it opens up a booking page showing available appointments. The Spanish Consulate in London offers appointments for Non-Lucrative Visa applications Tuesdays and Fridays between 8;30am and 2:15pm. You can usually only view and select days in the current and following month.
Choose Your Date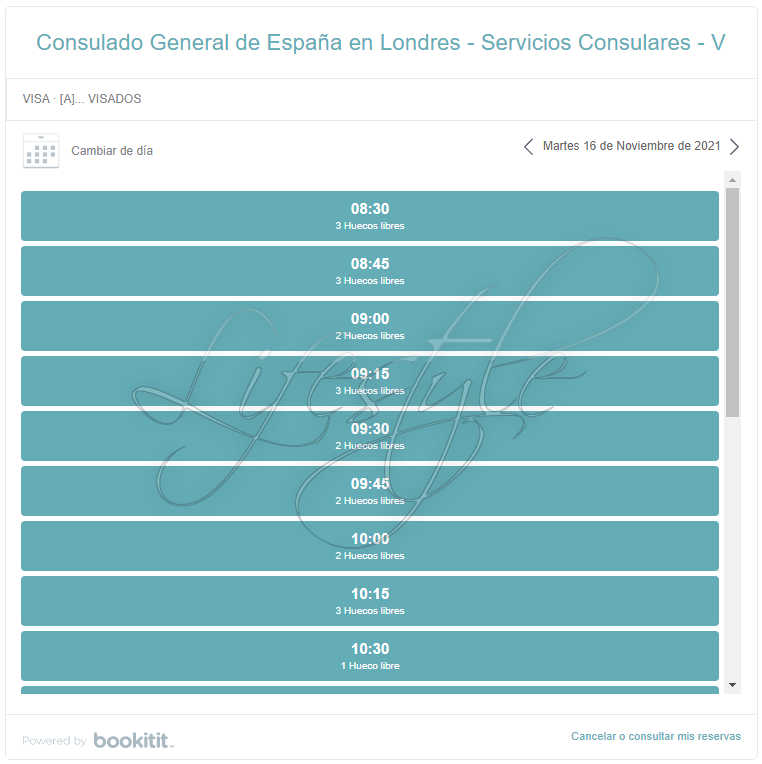 When you select a date, a login screen appears. Enter your passport number and the password provided by the Consulate in the email they sent.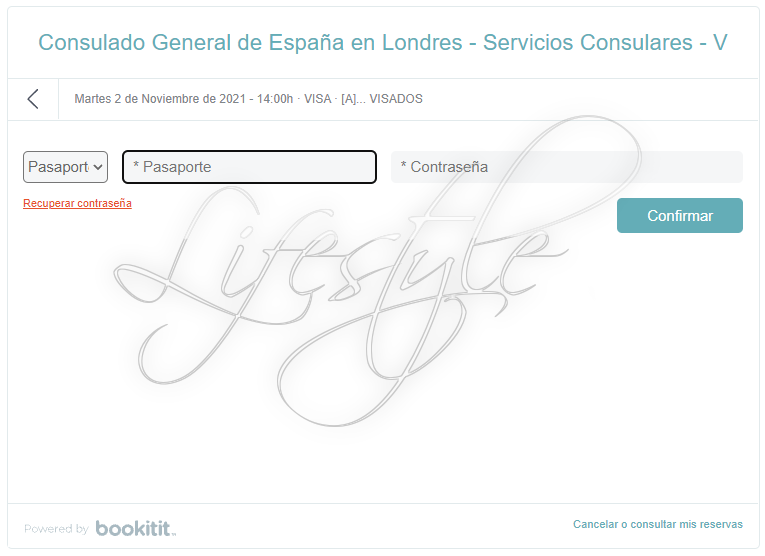 After entering the details, a confirmation screen will appear.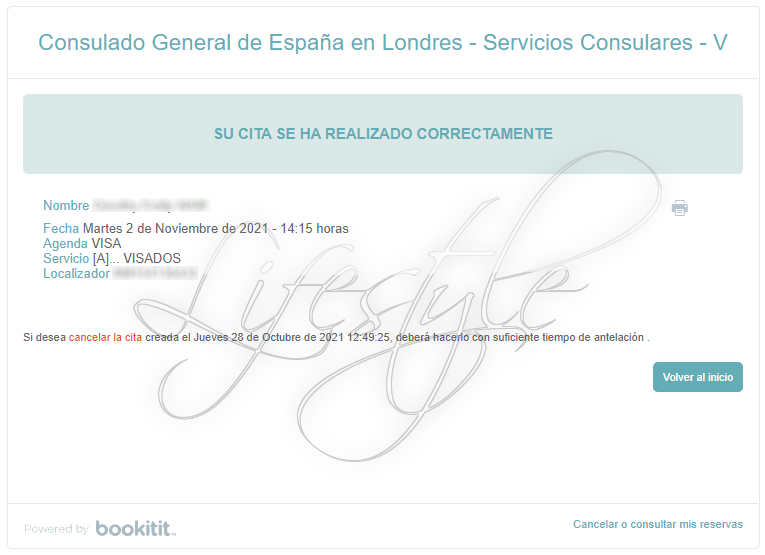 If you need to cancel or change your appointment, you can return to your booking at anytime by clicking on the appointment booking link in the email and entering your username and password.
Confirm your Non-Lucrative Visa appointment at the Spanish Consulate in London
A few days before your appointment you should receive an email asking you to confirm your Non-Lucrative Visa appointment at the Spanish Consulate in London.
Click on the 'YES, I will attend' tab and you should see a successfully confirmed pop up, and receive an email confirmation.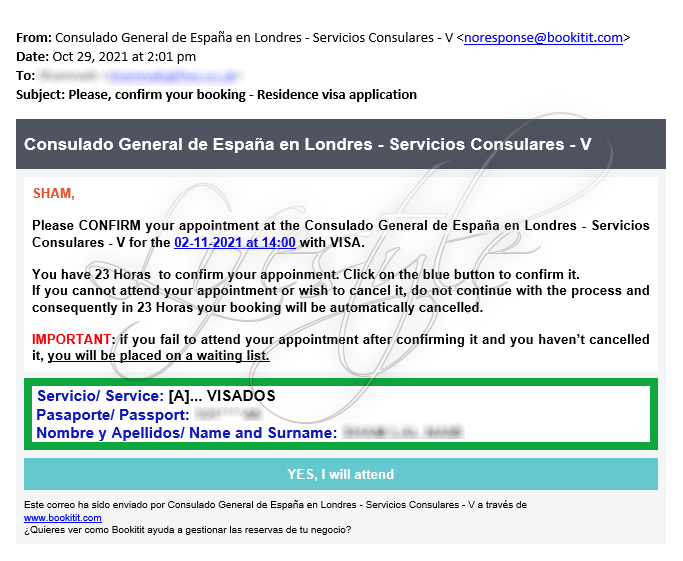 If you don't receive an email confirmation, use the booking link to log in and check your appointment. If you have successfully confirmed your appointment, it will show as below in 'Estado' – 'Confirmada'. (Status – Confirmed).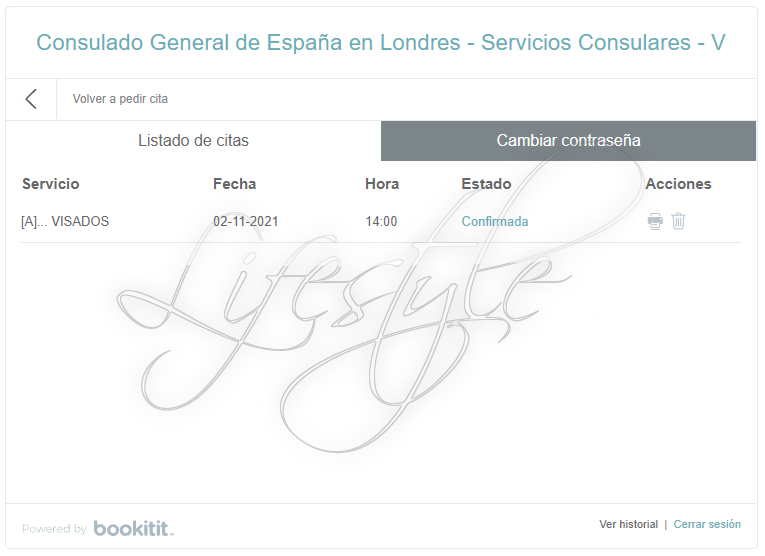 Final Checks Before Attending Your Non-Lucrative Visa Appointment at the Spanish Consulate in London
The last thing you want is to be told and your appointment that your applications are not acceptable or have documents missing or not correctly prepared.
Check and double check that you have everything you need – request our Non-Lucrative Visa Appointment Checklist.
Phone / WhatsApp: (+44) 033 000 10 777 / (+34) 951 77 55 44
Need Help Getting Your Application Ready for your Appointment?
Take a look at our Non-Lucrative Visa Service